About Us
Core Master Enterprise Co., Ltd.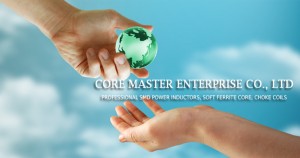 Core Master was established in May 1982 in Taiwan and the factories are located in JiangXi and Guangdong, China. Our Factory is 5600 square meter and total 450 staff. We serve with the customized items to meet the customers' requirements and our professional engineer team provides the best technical support. Here is our features for engineer's design Kit.
We produce many different types of electronics components, such as power inductors, EMI ferrite core, chip inductors, ferrite inductors, ferrite chip bead, EMI core and RF choke. These components are extensively used in the information / communication / consumer product industries, such as automotive electronic, projector, ADSL modem, digital camera's LCD monitor, notebook, printer, server and so on.
Our production system is certificated with ISO9001 / ISO14001 under complete and severe quality management to assure the stable production procedure and good quality. All of the products are certificated with RoHS and submitted for test, verify and complete SGS reports. Our anticipation is to serve our customers by best products, quality, price and delivery.
Welcome to contact us anytime.  Core Master will be your best partner in your business field.

Next:
Awards